COVID-19 Testing
National Surveillance of COVID-19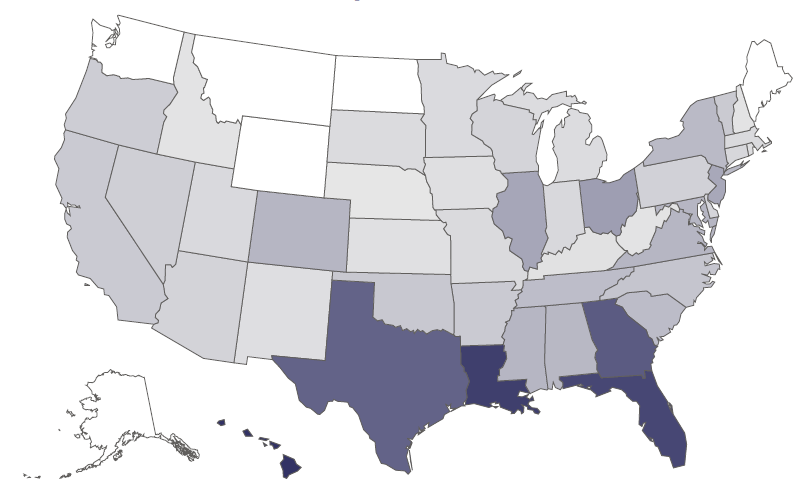 Click here to view Walgreens COVID-19 Index
Interactive maps and graphs tracking COVID-19, including Omicron, and other emerging variants are updated daily.
Aegis Sciences Corporation and Walgreens COVID-19 diagnostic testing and whole genome sequencing contains ~15% of all COVID-19 results in the United States. The combination of diagnostic testing, genome sequencing, and patient information produces valuable epidemiologic insights.
Article describes an early indicator of the Omicron variant.
---
Aegis TAT is measured from the time samples are logged into our laboratory tracking system until test reports are released. It does not include transit time to lab. Aegis works with all of its collection partners to maximize the use of overnight shipping to its lab after collection. Shipping delays and weekend shipping schedules may impact the length of time between the collection event and the final Aegis report. 
Please check the patient portal for the latest updates: patientportal.aegislabs.com. When the sample has been received in the laboratory and testing is underway, the portal will display that the sample has been received and testing is in progress. Results will be available in the portal as soon as testing is complete. You will also receive an email with your results as soon as your test results are released.

Over 300,000 Next-Generation Sequencing Performed
---
01/18/22 – WINTER STORM IMPACT – Your important lab results may be delayed by disrupted FedEx operations. The FedEx network has recently been impacted by severe winter weather across the country. We apologize for the inconvenience caused by the delay of your results. Our laboratory operates 24/7- once received, all samples will be promptly tested and reported. Please continue to check the Aegis website or patient portal for status updates.
12/21/21 - In response to the ongoing COVID-19 pandemic, Aegis Sciences Corporation and Walgreens have collaborated to make real-time reverse transcriptase polymerase chain reaction (RT-PCR) testing readily available at more than 5,200 of the over 7,200 Walgreens locations that provide COVID-19 testing.  As the virus that causes COVID-19 continues to mutate, both organizations have worked diligently to closely surveil the spread of the Omicron variant.  Due to Aegis' utilization of the ThermoFisher TaqPath™ COVID-19 Combo Kit for RT-PCR testing, we have been able to quickly monitor expected Omicron spread through identification of S gene target failure in COVID specimens, a phenomenon caused by the Omicron variant.  Ongoing review of positive results with S gene target failure has demonstrated that nearly 30% of all positive results from specimens collected across the nation in recent days are likely Omicron, and spread of this variant is occurring at a significantly greater rate in some portions of the country.  

More detailed information can be found here: National Surveillance of COVID-19 Infections: Variants, Vaccination Status, and Viral Spread
2/15/21 - Tracking the emerging COVID-19 variants' effect on testing Read full article
1/20/21 - Last week, a review of published information comparing the effectiveness of saliva and nasopharyngeal samples in detection of SARS-CoV-2, the virus which causes COVID-19, was published in JAMA Internal Medicine, one of the most highly regarded scientific publications.  After completing a thorough evaluation of all studies comparing the aforementioned specimen types, the authors concluded that saliva samples may not only allow for simpler and more comfortable specimen collection, but that they also offer comparable sensitivity and specificity in testing.  Read full article
11/23/20 - Not all labs experiencing testing lag - Our Sr. Vice President, Laboratory Operations, Matthew Hardison spoke with WsMV News4 Nashville about Aegis's rock steady supply chain and quick turnaround time. See the full story here
11/16/20 - Notice to Health Plans, Patients, and Governmental Entities –Pricing and Coding for Aegis multiplex COVID-19/Flu (SARS-COV-2, RTPCR + Flu A + Flu B) Testing – Effective 11/16/2020
Pricing:         $142.63 per test (same for all CPT codes)
Coding:         87636

11/16/20 - Aegis Sciences Corporation Launches Combined Test for SARS-CoV-2 and Influenza A/B Virus. Read full press release.
9/2/20 - Aegis Sciences Corporation announces it has been awarded $6.6 million NIH grant to rapidly expand COVID-19 test capacity.  Capacity for 60,000 tests a day expected by September 30 with most results available within 24 hours.  Read full press release.
8/13/20 - HHS Announces collaboration with Aegis Sciences Corporation to ramp high quality COVID-19 RT-PCR testing with fast results.  Click the link for more information  https://www.hhs.gov/about/news/2020/08/13/hhs-invests-in-diagnostic-labs-to-expand-covid-19-testing-capacity-in-the-united-states.html
For inquiries concerning Aegis's collaboration with HHS, and/or testing for federal, state, and local governmental entities, please contact Joel Galanter, Chief Legal Officer, joel.galanter@aegislabs.com
05/08/2020 - Aegis Sciences Corporation now offering COVID-19 Employee Testing Program 
04/27/2020 - Aegis Sciences Corporation Doubles Capacity for Coronavirus Disease 2019 (COVID-19) Testing. Capacity for 7,000 tests a day begins May 4 in response to community need. Read full press release
04/13/2020 - Aegis launches test for Coronavirus disease 2019 (COVID-19). Our dedicated team of lab scientists has worked diligently to leverage Aegis's strong lab capabilities and moved quickly to offer this valuable diagnostic tool to aid in the fight against COVID-19. Capacity for 3,500 tests a day beginning April 15, 2020; results available within 24 hours. Read full press release
04/15/20 - Notice to Health Plans, Patients, and Governmental Entities –Pricing and Coding for Aegis COVID-19 (SARS-CoV-2, qPCR) Testing – Effective 04/15/2020 
Pricing:         $100 per test (same for all CPT codes)
Coding:         U0003
On April 14th, Centers for Medicare and Medicaid Services (CMS) announced new procedure codes and associated pricing for COVID-19 testing performed utilizing high-throughput technologies capable of processing large volumes of COVID-19 tests rapidly. CMS took this action in light of the high cost of resources, required investment, and advanced technical requirements associated with utilizing high-throughput technologies. All of Aegis's COVID-19 tests are performed utilizing advanced high-throughput platforms. Aegis will continue to align with the floor pricing established by CMS, which is $100 for Aegis's test, and accept that amount as payment for its COVID-19 testing.

04/16/2020 - Aegis Sciences gears up for COVID-19 testing.  Featured on WSMV News4 Nashville - View Clip
Downstream effects of COVID-19 on your patients

Date and Time:

Length: 30 minutes
Resources
Patient Portal

If you are a patient that had COVID-19 testing performed by Aegis Sciences click below to retrieve your results:

COVID-19 Fact Sheets

Aegis' COVID-19 Fact Sheets provides information for patients and providers regarding the risks and benefits of using Aegis' tests for COVID-19. For both providers and patients, the test used can be found in the "Sample Comments" section of the Laboratory Report.

This Fact Sheet informs you of the significant known and potential risks and benefits of the emergency use of the TaqPath™ COVID-19 Combo Kit.

Provider Fact Sheet

This Fact Sheet informs you of the significant known and potential risks and benefits of the emergency use of a Molecular Laboratory Developed Test (LDT) COVID-19 Authorized Test (Molecular LDT COVID-19 Authorized Test) that has been issued an Emergency Use Authorization (EUA) by FDA. The Molecular LDT COVID-19 Authorized Test is authorized for use on respiratory specimens collected from individuals suspected of COVID-19 by their healthcare provider. 

Taq-Path™COVID-19 Combo Kit : Download Provider Fact Sheet (English - Taq-Path)

TaqPath™ COVID-19, FluA, FluB Combo Kit : Download Provider Fact Sheet (English Thermo Fisher)